Yes, folks!  The 2nd Edition of Evil Under The Circle has been released, in ebook formats, with a great new cover by Chris Graham.  This Edition corrects some errors and introduces some minor changes, as well as the new cover.  The new cover brings the look into line with that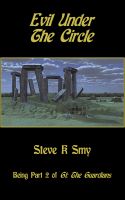 of the other books, with the sole exception of The Sigil of Ahriman, which  won't be altered as I honestly believe that the existing cover of that book simply can't be improved on.  I'd like to give my public thanks to Chris for his excellent work with the cover.  The paperback will be updated as soon as possible, though there will be a delay as my wife and I are going away for a few days.
The revised edition of the ebook should be available through Smashwords and Amazon, and other online stores when they catch up.
You may also be interested to know that there is a new novel in the process of being written, taking Team G1 on another extraordinary adventure!  This new tale will hold some surprises and deepen a mystery that began at the end of A Darkness in Amazonia.  But, as you all know by now, I'm not in the habit of revealing things, so I'm going to tell you nothing more…